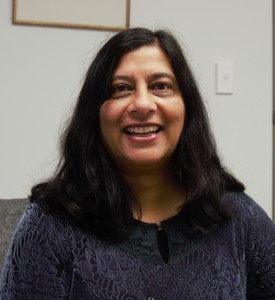 Aruna Patel Cornish
Psychotherapist
Registered with the Psychotherapy Board of Aotearoa New Zealand
I was born to Gujarati parents in Nairobi, Kenya. When I was 5 years old my family moved to Peterborough, England due to political unrest in East Africa. I started school knowing no English but soon integrated into my new environment with the care and attention of my first teacher.
I completed Early Childhood Education and Neonatal Nursing training in England, working there in ECE for a number of years. In 1989, I came to New Zealand and was offered work at the Victoria University Early Childhood Centre, which I managed until 1992. I am married and have two adult daughters.
I have a deep personal background in spirituality, creativity and making meaning of life's experiences. I have lived through the challenges of emigration, immigration and inter-cultural marriage.
During my training, I worked within a Kaupapa Maori mental health and addiction service for several years and I have been in private practice since 2015.
My personal search led me to Gestalt Psychotherapy training, which encourages the integration of body, mind and spirit. This holistic approach to wellbeing and recovery is the foundation of my therapeutic practice. I have an open and honest approach to my work and respect each person's individuality, heritage and cultural background. I offer a safe environment where the full range of human thoughts, feelings and experiences can be shared and worked through by raising awareness in the here-and-now.
You can contact me directly on 0223870315 or via The Terrace practice contact page.